Constant hype around operations unwarranted, says ex-Army officer who was part of surgical strike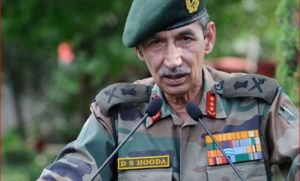 Gen Hooda was the Northern Army commander when the surgical strike were carried out on September 29, 2016 across the LoC as a response to a terrorist attack in Uri earlier that month.
The military leadership must guard against becoming a tool in the hands of politicians. We can't take military action to suit someone politically," Lt Gen DS Hooda (retd), the Northern Army Commander at the helm of surgical strikes in September 2016, said, adding that though the action needed publicity to boost soldiers' morale, the excess hype and political one-upmanship around it was uncalled for.